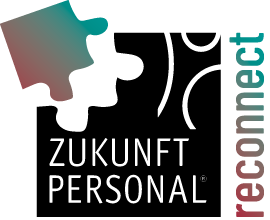 // ZUKUNFT PERSONAL RECONNECT
14. - 16. September 2021 live in Cologne
09 - 23  September 2021 Virtual
ZP Reconnect 2021 - Secure, innovative, interactive and above all hybrid
3 days live event in Cologne with exciting encounters and the latest insights into the world of work. 11 days of virtual sessions with valuable contributions from the international HR world. As the first international hybrid HR event, ZP Reconnect 2021 has convinced exhibitors and the audience.
The success figures speak for themselves:
4,242 visitors
78 exhibitors live in Cologne
214 online sessions with 15,063 session views
218 virtual exhibitor profiles with 23,070 hits
521 online meetings 

"With ZP Reconnect, we succeeded in reviving the exchange on important topics in the HR scene. We would like to express our sincere thanks to all sponsors, exhibitors, partners, moderators and active participants who accompanied us on our way into the hybrid future."
Christiane Nägler
Group Director of Zukunft Personal
// Day 1 - Impressions
//Day 2 - Impressions
// Day 3 - Impressions