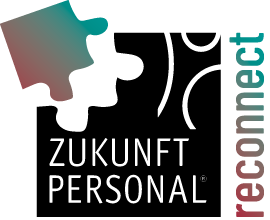 // ZUKUNFT PERSONAL RECONNECT
14. - 16. September 2021 live in Cologne
09 - 23  September 2021 Virtual
FINALLY THE TIME HAS COME!
After almost 16 months in front of the screen, we are hosting the first live event around the world of work!
Soon you will find all the information about the programme here. Be excited now - there are many highlights waiting for you: renowned HR experts you can meet live on site; exciting keynotes; useful presentations and best practices that will support you in your daily work!
And many more surprises await you!
We look forward to your visit!
PS. Until 31 July you can pre-register here for a FREE TICKET!

As the first hybrid face-to-face event for HR, ZP Reconnect offers the opportunity for personal encounters live and in colour at Messe Köln from 14 to 16 September.
| | |
| --- | --- |
| Meeting Spaces | Networking                                   |
| Keynotes | Workshops |
| | uvm. |
Experience exciting lectures, workshops, etc. on the virtual platform from 9 to 23 September - as a supplement to your personal visit to the trade fair.
| | |
| --- | --- |
| virtual Session | interactive Workshops            |
| virtual Guided Tour | Networking |
| uvm.  |   |
//ZP Reconnect: Secure. Innovative. Interactive. Inclusive
This is an event you absolutely must not miss - this is how you benefit from your visit live in Cologne:
Safe: We offer maximum safety to all participants
Innovative: Everyone can arrange their visit to the fair to suit their individual requirements. The online and offline event merge into a 360°HR EXPERIENCE - with surprising features
Interactive: Before, during and after ZP Reconnect, all participants can network and exchange ideas in video calls, on-site meetings or workshops. PLAN YOUR APPOINTMENTS WITH PARTNERS AND SPONSORS IN ADVANCE
Limitless: With the virtual expansion of certain programme content, we meet your need for flexible participation live and virtual - independent of location and time.
// Any questions?
We will be happy to answer any questions you may have about the event. Please feel free to contact us at contact@messe.org.