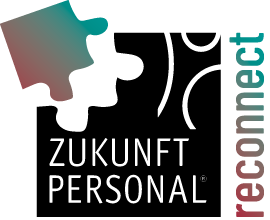 // ZUKUNFT PERSONAL RECONNECT
14. - 16. September 2021 live in Cologne
09 - 23  September 2021 Virtual
//ZP Reconnect: Secure. Innovative. Interactive. Inclusive
This is an event you absolutely must not miss - this is how you benefit from your visit live in Cologne:
Safe: We offer maximum safety to all participants
Innovative: Everyone can arrange their visit to the fair to suit their individual requirements. The online and offline event merge into a 360°HR EXPERIENCE - with surprising features
Interactive: Before, during and after ZP Reconnect, all participants can network and exchange ideas in video calls, on-site meetings or workshops. PLAN YOUR APPOINTMENTS WITH PARTNERS AND SPONSORS IN ADVANCE
Limitless: With the virtual expansion of certain programme content, we meet your need for flexible participation live and virtual - independent of location and time.
// Any questions?
We will be happy to answer any questions you may have about the event. Please feel free to contact us at contact@messe.org.