Surging demand shows we are all digital learning providers now as Fosway releases new 2021 9-Grid™ for Digital Learning
09.03.2021 | Fosway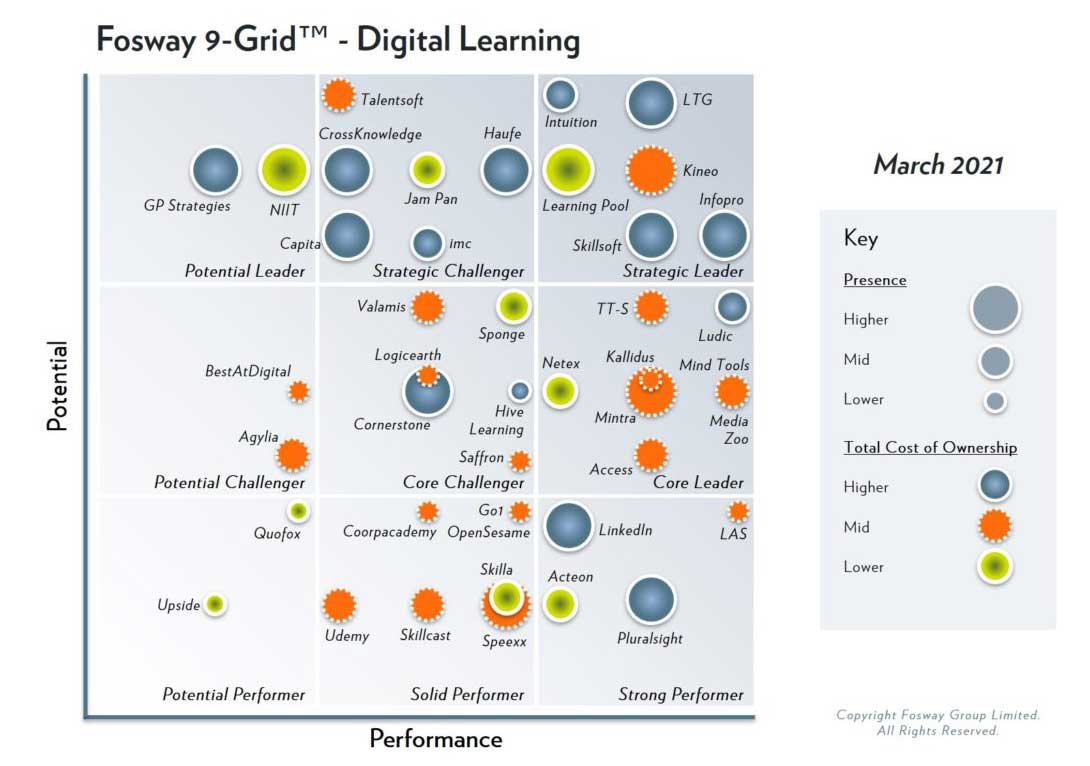 Following its assessment of learning systems last month, Fosway Group, Europe's #1 HR industry analyst, today releases research into the wider market with the launch of the 2021 9-Grid™ for Digital Learning. It finds that digital learning has never been more critical because of the pandemic, but there is more to be done to improve the learning experience and increase business impact.
Digital learning has provided many organisations with a life raft since the onset of the COVID-19 crisis. The importance of enabling people to transition to new working conditions or remote working, upskilling and reskilling for new roles, or supporting employee wellbeing, cannot be overstated. For perhaps for the first time, digital learning has become a recognised strategic player in the corporate game.
As a result, many have accelerated their digital transformation by years, moving rapidly from the old world to the new in a few weeks or months. And this is not a flash in the pan set to last only for lockdown. Only 1% of organisations believe their approach to learning and development will go back to what it was before the pandemic. Digital learning is here to stay.
But despite the surge in demand, there is still work to do beyond a simple switch from the classroom to virtual instructor-led sessions or a library of generic off-the-shelf content. And early signs show that nearly half of organisations are already reporting digital learning fatigue. Plus the pressure is on L&D to show its real value and outcomes to business leaders.
David Wilson, CEO at Fosway said:
"It's really astonishing how quickly L&D has been able to respond to the pandemic and transform the scale of its digital learning offering. It's also encouraging to see different elements such as performance support, curation, video, microlearning and social learning all vying for a role alongside traditional e-learning. But although the change has been rapid, it hasn't reached its full potential yet."
David Perring, Director of Research at Fosway adds:
"As digital learning fatigue has grown significantly during the pandemic, the quality of our learning experiences matters more than ever before. We need to find a more 'human-kind' approach. Which is potentially one of the biggest challenges for learning teams and providers for 2021 and beyond."
The 9-Grid™ for Digital Learning focuses on solutions that provide content and resources and therefore provides a different lens on the learning technology market than the 9-Grid™ for Learning Systems, which concentrates on the platforms that power the content.